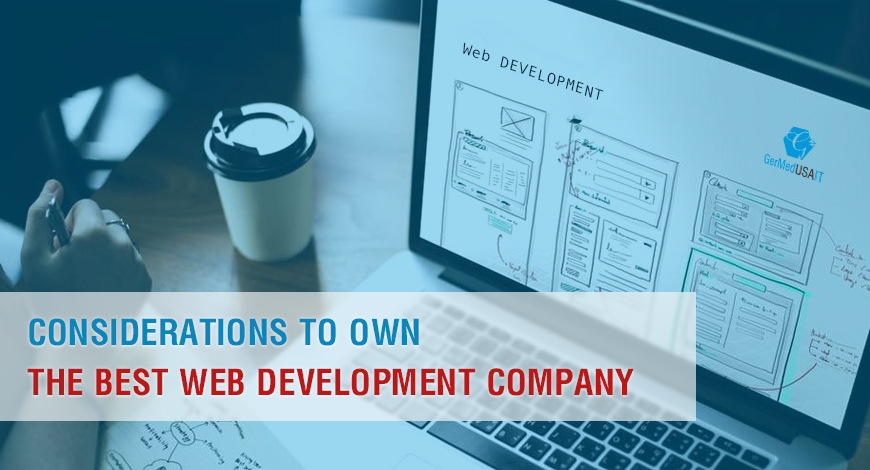 CONSIDERATIONS TO OWN THE BEST WEB DEVELOPMENT COMPANY
There is still a great deal of confusion in the web development community. We've also heard people refer to it as "dark art." So how do you know who you can trust to get this done whenever you require help transforming your ideas and designs into a high-quality website or web application? The main areas we will be focusing on are below and what you should be asking for in a web development business.
Success factors should be practiced.
Awareness of marketing techniques relating to projects
Invest in R&D
Has a comprehensive method of testing like automated tests
Adaptable to change
SUCCESS FACTORS SHOULD BE PRACTICED
It is not the tools you use that are the secret to becoming a successful web developer, but the best practices you follow. These best practices will stay, or at least change, as innovations come and go in our very fast-moving business. As a developer, if you have a solid foundation, then you can switch very quickly with the times and technologies. 
AWARENESS OF MARKETING TECHNIQUES RELATING TO PROJECTS
We've encountered this reasoning several times that web developers are not concerned about a project's marketing plan. Generally, this is because developers don't care. Yeah, they really do. If they don't think about the "bigger picture," how can they guide clients and think about supporting clients deliver the best fix?  The most critical question that a developer may ask is "Why?" Take time to thoroughly grasp and educate the customer's requirements, after all, the customer does not understand the ins and outs of web creation, you do. Make the period of growth a two-way interaction.
INVEST IN R&D
The Web industry is a really fast-moving sector, as everybody knows. In a matter of seconds, things come and go. A successful web development company offers allocated time per week for its developers to look at new developments and technologies. Certainly, some of these patterns and innovations are dead ends, but until you look into them, you won't know. If you want to see if there are things a web development business knows, simply ask them what their developers have currently been digging into. You don't have to know everything you're told, but write them down and look them up on the internet to understand whether or not the organization is looking for new patterns.
For a developer, R&D is possibly the most significant time per week. If developers don't adapt, the solutions they create can very swiftly become stagnant and dated. As a customer, before you even start, do you want an outdated solution?
HAS A RIGOROUS TESTING PROCESS, INCLUDING AUTOMATED TESTS
We have used the customer too much as a tester for a project. If this occurs, then the production company does not understand the project well enough they are simply "going to bang out" code, to put it plainly. Automated tests should be written by a good web development company with all their code, both front-end, and back-end. Tests help developers focus on the code they create at that time on a basic level, as well as help developers write more concise code. The more concise code ensures that it is easier to comprehend and cheaper to operate the codebase.
Automated tests are not the only significant testing factor. The web development industry should also have a human testing standard, and this is undoubtedly something that customers should be interested in. A key to this process is user stories. Customers can collaborate with the web development company to gather user stories as part of its growth strategy so that both parties concerned know how users communicate with the website or application and the consequences of those experiences.
FLEXIBLE TO CHANGE
We've all witnessed developers worry about how their customers adjust the specifications of a project halfway through a project. Developers have to stop moaning about this it happens to all of us and it will never change. To cope with the transition, a successful web development company should have methods in place. Ask how change requests will be treated if you are a customer. In short release periods, preferably 1 - 2 weeks, web developers can work. The worst thing that can occur to a project is that the developers get the overview, begin the work, and then declare its done 2 months later, just for the customer to say "This is not what I asked for!" Clients may be active at all levels by operating on short release cycles. The client can review the project up to now at the end of each update and make any requests for improvement.
WHY CHOOSING AN INTERNATIONAL WEB DEVELOPMENT BUSINESS?
Some other advantages of partnering with an international web development company is that your online business will get reliable follow-up services. You will for example, earn discounts from the company on search engine marketing and creation of your online brand. You should sit down and plan the way forward for your organization with the site and design departments. Because your success is their success as well a good web team would have your best interest at heart! You do not appreciate this from an offshore firm.
All above are some of the factors so many individuals choose the best web development to work with. The long-term advantages greatly outweigh those of collaborating with an American company in the short term.